Jefferson Medical College and the Division of Gastroenterology and Hepatology held its 31st Annual Advances in Gastroenterology in Atlantic City on Saturday, June 25th. Inovera and the FORVIA crew have exhibited at this meeting for several years and enjoy meeting the doctors, nurse practitioners and RNs who attend. We also sit in on any of the lectures that have to do with nutrition, inflammatory bowel disease, celiac disease or related topics.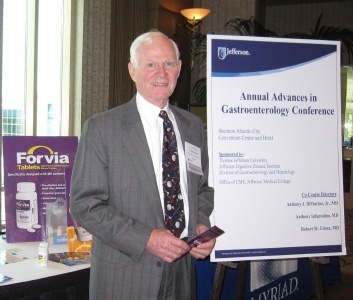 Many of the lectures were pretty technical in nature but a presentation by Dr. David Kastenberg (Associate Professor of Medicine, Philadelphia's Jefferson Medical College) was interesting and included some tips about colonoscopies. As most of us sooner or later are candidates for colonoscopy, I took notes from Dr. K's lecture and they are available as a download.
Here's another tip in a lecture by Dr. Robert Coben (Associate Professor of Medicine, Jefferson Medical College) on treating diarrhea, a common problem in IBS, inflammatory bowel disease and other gastro conditions. Many treatments discussed by Dr. Coben are prescription only, but he said peppermint oil capsules have been shown to be effective in clinical trials, are inexpensive and available without prescription. Be sure not to bite the capsules he warned - peppermint oil does not, repeat

not

, taste like peppermint!